As we are entering the last quarter of 2019, the entire workforce gets in a hurry to achieve more, close more, earn more.
The problems salespeople face are no different at this time of the year. That is why we gathered these evergreen prospecting strategies, to take you from frantic to fabulous!
Before Choosing a Prospecting Strategy – Know This
Extensive prospect research is vital for keeping the pipeline filled and starting point for every prospector. 
Create a comprehensive ICP and list individual Buyer Personas, and then look into the market and decide which companies fit the criteria. 
Think of the previous clients and determine which of their characteristics made them the right match for your service.
If you want to get better at inside sales there are certain prospecting skills you should work on.
What You Need to Know About Prospects to Close a Deal
The more you manage to learn about the prospects – the better! Even the tiniest detail might inspire you to use a completely different kind of approach, and pitch your product perfectly.
Since there is no such thing as a universal formula you can use every single time, you need to wing it on your own a little bit. 
Here, we singled out some things that you'll surely make use of:
Interests (pain points, needs and goals);
Buying triggers;
Company details (location, size, budget, records and behavior);
Employee structure (key decision-makers, gatekeepers);
Their competition.
Wanna see how we do it? Check out our ICP how-to with a free template here!
Best Prospecting Strategies
Now we can get on with the prospecting strategies that will fill your pipeline with high-quality leads!
Our advice is to try and use all of these, no matter your preferences.
1. Email – the mother of all Account Based Campaigns
Emailing as a prospecting strategy is far easier than cold calling – especially for inexperienced, jittery salespeople who still get a bit nervous when they need to make a call.
The first obstacle is crafting an amazing subject line. It should make the prospects open the email, so go for something slightly unusual, attention-grabbing and short, but still professional.
The body of an email should be personalized according to the importance of the account; you don't need to write a completely different email for every single one of them, but it is a good idea to adapt them to their needs.
Focus remains the same as with cold calls – talk about their business, not so much about yours. Instead of pitching right away, stick to the tried-and-true problem-solving tone, and show how your services benefit them.
Don't forget to provide an eye-catching CTA! 
TIP: A link to your calendar (so you can arrange a call or a meeting) or useful content might seem like the best way to go. However, you should keep your ask small in the first email. 
Don't ask for the meeting just yet, even if it's just for 10 minutes. You will get better results if you gauge their interest first.
Testimonials, case studies and success stories will help them gain more trust, so you can include them in the following emails.
GDPR keeps you up at night? Learn how to send Cold emails without having to worry about the gargantuan fines.
2. Cold Calling 2.0 – Yes, cold calling is very much alive!
I'm gonna be honest with you – whether you like it or not, you need to make cold calls.
They still work surprisingly well, though – so at least you know all your work is not in vain!
This is just one more reason to try and improve your cold calling strategy to make fewer calls, but more cash!
The most important thing is to target only the prospects you picked according to ICP and calling those who showed interest (i.e. opening your email but not responding) – doing otherwise would be a huge waste of resources. 
When you manage to get them on the phone – stay confident, control the conversation and keep track of everything. 
Your main goal is to explain how they'll benefit from your product or service and the best way to do so is to address the pain points and the ways you can solve their problems.
Selling at the first contact does not happen in B2B sales, so don't take it as a norm or you will only end up feeling miserable. It is far more important to follow up and nurture the lead.
3. Direct Mail – in the 21st Century?!
Wouldn't it be nice to receive an actual, hand-written letter instead of heaps of bills and adverts? Well, we think the prospects would love it too.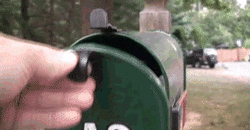 You got mail!
Cheer someone up with an original note, or even a package – remember the guy who placed his resume in boxes of donuts? Try with perfumed paper, funny drawing, or something a bit more serious, depending on the industry and the key people you speak to.
It would be best to reserve this tactic for the leads that are hard to get and very important since it requires more time and effort than plain emails. 
Need some inspo? Check out these creative ABM campaigns to fuel your imagination.
4. Social Selling – the eMail of the 21st Century
Utilizing social media to prospect is relatively new, which means not a lot of people are using it the right way! 
LinkedIn and Twitter are great places to target new leads(see the article above to learn how Twitter helped score a giant deal). 
Social media presence will make you more approachable; your profile can serve as an interactive CV, business card and a mailbox at the same time. No gatekeepers, no waiting – you can reach out directly to the person you need!
Selling on LinkedIn has special tools that make it easier, such as SalesNavigator, which helps you connect with leads and can even be connected to your CRM.
Joining the niche social media groups can be added to your arsenal as well! Tips, discussions, advice and meet-ups are some of the things that work like a charm and take very little time and effort.
5. Event Prospecting – expensive but worth it!
If done tactfully, prospecting IRL can bring in many beneficial acquaintances. 
Attendees of the conferences, seminars or other industry events could very well be the perfect match for the ICP you have made, so check out the industry events and do some mingling and scouting.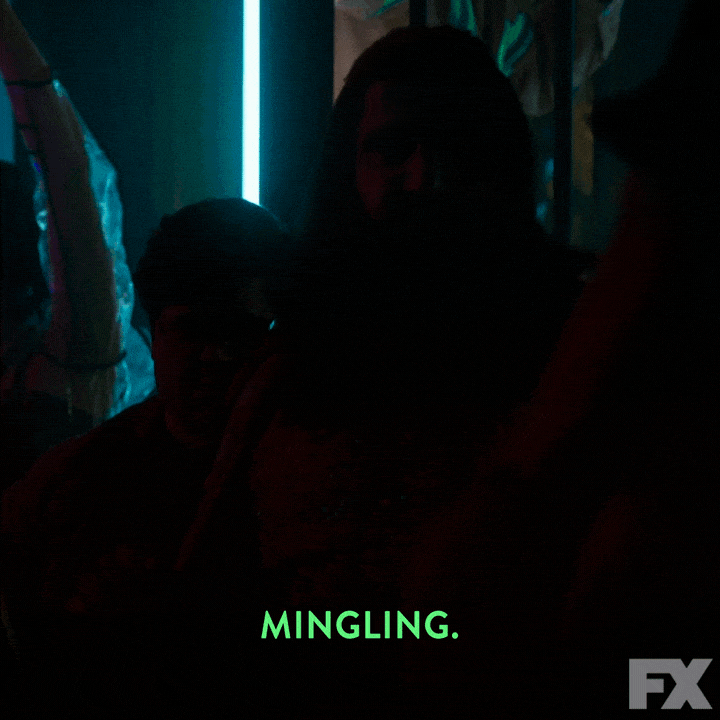 Did you get to the right event though?
These kinds of events are a great opportunity to showcase your services and get to know your potential clients – if they give you their business cards and encourage you to contact them, you can be sure you have just gained yourself a warmed-up lead!
Here are some practical tips which will help you network with people at events and possibly land a client.
Remember the most important thing when meeting someone at events: you are not there to learn about them so you can take their money. You ask questions so you can make them money.
After you talked to someone for a while don't say "Here is my business card, give me a call if you need help with X."
What you should do is to ask them for their business card or LinkedIn profile – it should go something like this: 
"Your business seems really cool! How can I find you on LinkedIn? I may know some people who could benefit from your service."
And the best part is that you should aim to connect people who might benefit from each other, even if it doesn't work out. The people you meet at events and recommend to someone might become your clients eventually, or they might connect someone they know with you!
6. Referrals – the easiest way to close deals
Referrals make your business more trustworthy, so you should generate a steady referral system and have it ready at all times. 
So, don't be shy – ask for them anytime you can! 
The usual way of getting referrals is to consult with the current customer base. 
Many of your satisfied clients will be happy to provide feedback that works in your favor and put you through with your next potential client.
Remember the old prospects of yours you made a great connection with, but never got to close the deal with? We hope you kept in touch – since they can refer you to the company that could benefit from your service.
Another referral strategy is to team up with strategic partners, so you could refer each other to the other companies. A tit for tat, so to say.
Strategic Prospecting – Best practices
While using the wide array of Prospecting strategies will surely do your stats well – you need to keep in mind the right way to use them.
If you are working your sass off (heheh), but nothing seems to change for the better, read about the best prospecting practices below.
Know the competition like the back of your hand
LinkedIn gurus go on and on about "providing value" – but there are few things the executives don't already know. You cannot compete with the whole hard-working teams they employ – and you shouldn't waste your time trying to. 
Instead, try and position yourself concerning your competition and prove that you are better!
To achieve this, you need to learn about the competition as well. This way, you will also:
Realize what aspect of your service is unique;
Determine the strong and weak points in your offer, in comparison to the similar stuff on the market;
How to make the offer more valuable than competitors' work. 
There are quite a few ways you can learn about the competition:
Speak with their former employees (Glassdoor can be a gold mine to get inside info);
Ask prospects who already use their services during cold calls;
Analyze their websites and work;
Funnel research.
What's the best time to reach out?
You don't want to interrupt your prospect during their beauty sleep, do you? Or even worse… Their lunch?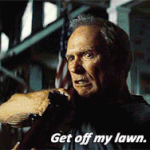 The best time to make a cold call is between 10 am and 4 pm! Calling too early is bad because people probably still aren't geared up to work, and by calling too late, you might catch them while they are rushing to get things done before going home.
Try and pick Tuesdays for calling, since by Friday chances get pretty low. 
As far as cold emails go – people tend to check their inbox early in the morning – while they commute or sip on their coffee before the workday starts.
These facts are brought to you from an analysis of more than 10.000 sales calls performed by InsightSquared – you can see a more detailed report here.
Keep the Beers Cold – But Leads Warm!
Warm leads are easier to talk to and walk through the sales pipeline – and more likely to close the deal in the end. Warming up the leads is a lasting process; set some time aside every day, and dedicate it to keeping in touch with people. 
This is not the time to pitch and sell! 
People are interested in learning something new, or having fun – so try and provide the content accordingly. A free PDF, quiz, game or an article they might be interested in – the choice is all yours. 
There is No Such Thing as a Failed Prospect – Keep Nurturing!
Following-up with the prospective leads definitely matters, but remember to keep in touch with the "failed" leads as well.
They can provide a referral, or even become a client in the future. Don't hang up as soon as you get rejected – try to gain something from it, let it be a bit of advice on how to improve your conversation style or insight into the way competitors work.
A Good Tech Stack = An Extra Pair of Hands
Smart automation will do a great deal of work for you if you pick the right tools. 
Do not hesitate and, after you've done extensive research, invest in a set of tools, software and plug-ins that will work well together. 
You can – and should, automate:
Dialing (by using auto-dialers);
Lead generation;
CRM;
Lead scoring and management;
Prospecting data and insights;
Sales engagement, performance and productivity;
Marketing intelligence;
Various alerts, scheduling, etc.
No matter how flawless your prospecting automation is – you still need to make it personal and memorable!
Stay Friendly and On-Brand
Remember – you represent the company you work for, so act accordingly during the working hours.
Your conversational style, approach, emails, etc – everything needs to be in line with your company image. Match it to the people you reach out and be a pleasant person people love to hear from.
Learn how our love for the craft beer inspired us to create a stunning, unique branding project – Developeri sa Dedinja!
Look into the Metrics
By knowing what works and what fails, you will know when to switch things up, and what needs to be changed to keep scoring. The most reasonable way to do this is to keep a neat and detailed record of the metrics.
Some of the most important Prospecting metrics are:
Prospect-to-SQL ratio
Email conversion, open, and response rate
Closing ratio
We hope these strategies work for you.
Meanwhile – what do you think about an information-rich, custom-made B2B Prospect List?
We can create one for you, so you never waste time on the outdated contacts again!
Did this article solve your problem? Please rate below!